Tim Boyle to Start for Jets Against Dolphins, Zach Wilson Moves to Third on Depth Chart
By:Sports Illustrated

Uploaded: 2023-11-20 ~ Views: 611 ~ Duration: 00:36 ~ Language: en ~ Country: US
The Jets will start backup quarterback Tim Boyle and bench Zach Wilson in Friday's game vs. the Dolphins, NFL Network's Ian Rapoport reported on Monday. Trevor Siemian will move ahead of Wilson on the depth chart.
The video Tim Boyle to Start for Jets Against Dolphins, Zach Wilson Moves to Third on Depth Chart has published by Sports Illustrated in sport category. Currently video has watched 611 times. This video was first time published on Dailymotion at 2023-11-20. Duration of this video is 00:36. More information about the owner of this video is available here Sports Illustrated .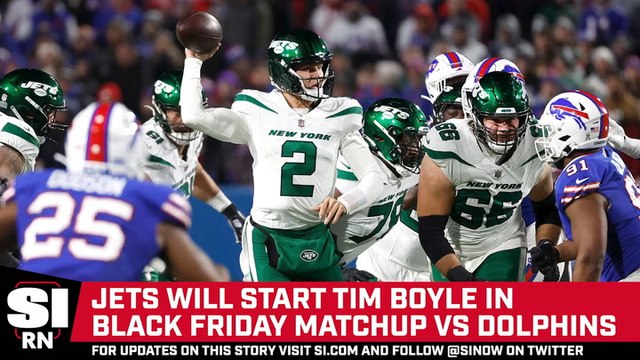 More videos by sportsillustrated
Related Videos
---
© 2023 - All Rights Reserved.