Anji Salvacion, Samantha Bernardo, Rob Blackburn and Isabel Laohoo shares how PBB changed their lives.

Subscribe to the ABS-CBN Entertainment channel! - http://bit.ly/ABS-CBNEntertainment

Watch the full episodes of Magandang Buhay on iWantTFC:
http://bit.ly/MagandangBuhay-iWantTFC

Visit our official websites!
https://entertainment.abs-cbn.com/tv/shows/magandangbuhay/main
http://www.push.com.ph

Facebook: http://www.facebook.com/ABSCBNnetwork
Twitter: https://twitter.com/ABSCBN
Instagram: http://instagram.com/abscbn

Watch more Magandang Buhay videos here:
Highlights - http://bit.ly/MagandangBuhayHighlights
Momshie Advice - http://bit.ly/MomshieAdvice
Yummy Recipes - http://bit.ly/MagandangBuhayRecipes
Business Ideas - http://bit.ly/MagandangBuhayBusinessIdeas

#MagandangBuhay
#KapamilyaOnlineLive
#PBBSeason10Big4
The video Anji, Samantha, Rob and Isabel shares how PBB changed their lives | Magandang Buhay has published by ABS-CBN Entertainment in tv category. Currently video has watched 877 times. This video was first time published on Dailymotion at 2022-06-22. Duration of this video is 03:05. More information about the owner of this video is available here ABS-CBN Entertainment .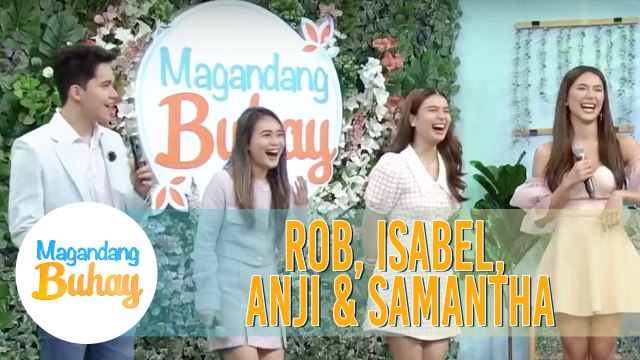 More Videos by ABS-CBN Entertainment