'Life isn't fair and the baby girl featured in this video successfully taught her elder brother this lesson.

Surfacing from Maracay, Venezuela, this comical clip shows said baby girl grabbing a piece of chicken from her brother's plate and sliding away in her walker in style.

On seeing her sibling cry, the mischievous little one decides to return to him, only to fool him once again and depart the scene with the tasty chicken still in her possession.

"We were sharing a delicious lunch when the baby (Marcela) approached the older baby (Tadeo) and took away his piece of chicken," the filmer, Maria Sidoti told us.


Name: Maria Sidoti
Location: Maracay, Venezuela'
The video 'Baby girl makes elder brother cry by stealing a chicken piece from his plate ' has published by WooGlobe in news category. Currently video has watched 9.4K times. This video was first time published on Dailymotion at 2022-06-21. Duration of this video is 00:23. More information about the owner of this video is available here WooGlobe .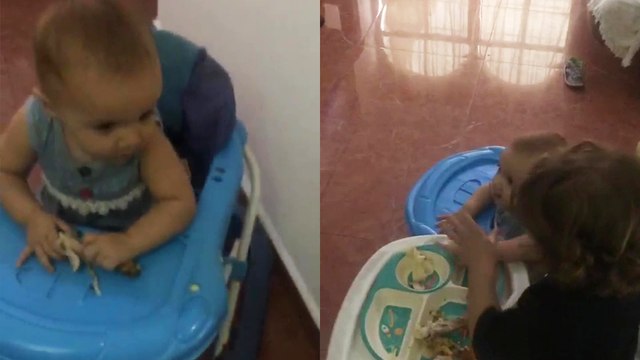 More Videos by WooGlobe